It's 4 countries, 4 years, 8 cities and 20 recordings in the double album "Live Ukulele Here, There & Everywhere", by João Tostes. The musician, who changed the trends and the way the ukulele is played and taught in Brazil, collects great moments and instrumental music concerts with the ukulele, plus workshops in Portuguese and English wherever he goes. He runs Toca Ukulele, one of the greatest projects concerning the instrument in Latin America, with a well-funded national and international artistic career. He is considered one of the pioneers of the ukulele in Brazil and is recognized by Brazilian Music Masters, such as Mozart Mello and Nelson Faria.
This is already the 3rd album by Tostes. In 2018, he released his first album "naturæ", which debuted in Brazilian music as the first instrumental ukulele album. In 2019 it was time for "Live in Italy", a live album recorded in the city of Vicenza (Astra Theater) in Italy (2018).
Live Ukulele Here, There & Everywhere is a compilation of cover and original songs performed live, between 2016 and 2019. The songs go from Beatles, with Yesterday, through Leonard Cohen with Hallelujah, to Waldir Azevedo, with Brasileirinho. The recordings were made in Brazil, Canada, Italy and South Korea. The album cover was made by his 10-year-old son João Victor Tostes, who also makes videos since he was 8 years old for the series "Ukulele Para Crianças - #ukekids" (Ukulele for Children, but it's just in Portuguese), on Toca Ukulele channel on YouTube.
Tostes started Toca Ukulele activities in 2015, and in 2016 he was already recording a special ukulele instrumental for UFOP TV - Concertos Didáticos (Didatic Concerts), which later was broadcast nationally by Canal Futura (Futura Channel). That made the musician to be the first ukulele player to be nationally on TV in Brazil.
Among so many achievements, Live Ukulele Here, There & Everywhere is also a striking point in celebration of the 100k subscribers on Toca Ukulele, the artist's oficial Youtube channel. On the tracks, beyond various recordings as a solo ukulele, the album has also special guests appearances on Tostes' live shows, including the musicians Rio Saito – the ukulele youth prodigy (Japan), Vinícius Vivas (Rio de Janeiro), Jonas Loi (São Paulo), and the artists Diogo Fernandes (bass) e Felipe Moreira (piano), from Minas Gerais State in Brazil, who have already accompanied the musician in studio records and shows worldwide.
World Premiere: March 16, 2020
Available on all music streaming platforms, including iTunes, Spotify, Deezer, Tidal, Amazon e Youtube.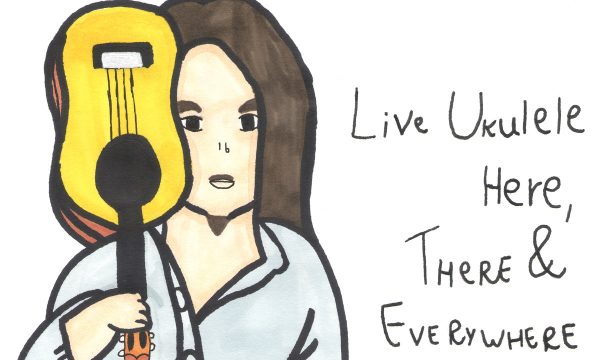 Album: Live Ukulele Here, There & Everywhere
Artist: João Tostes
Year: 2020
Tracks: 20 (live, double)
Release date: 16th March, 2020
Barcode/UPC: 194660835864
Style: Instrumental, MPB, Bossa Nova, Baião, Xote, Theme, Free Jazz, Fusion
Genre: Latin, Folk, World Music, Jazz
Designer: João Victor Tostes
Album tracks
Volume 01 tracklist:
01. Brasileirinho (Live Barbacena Brazil 2018)
Length: 04:43
Composer: Waldir Azevedo
Credits: João Tostes (ukulele), Diogo Fernandes (baixo) e Felipe Moreira (piano)
02. Hallelujah (Live Ouro Preto Brazil 2016)
Length: 4:12
Composer: Leonard Cohen
Credits: João Tostes (ukulele), Diogo Fernandes (baixo acústico)
03. Flor Amorosa (Live Seoul South Korea 2018)
Length: 3:31
Composer: Joaquim Callado
Credits: João Tostes (ukulele), Vinícius Vivas (ukulele)
04. Asa Banca / O Ovo (Live Vicenza Italy 2018)
Length: 7:10
Composers: Luiz Gonzaga / Hermeto Pascoal
Credits: João Tostes (ukulele), Rio Saito (ukulele), Diogo Fernandes (baixo) e Felipe Moreira (piano)
05. Sete Dias Te Esperando (Live Vancouver Canada 2017)
Length: 3:56
Composer: João Tostes
Credits: João Tostes (ukulele)
06. Hiro (Live Ouro Preto Brazil 2018)
Length: 3:49
Composer: João Tostes
Credits: João Tostes (ukulele)
07. Alivium (Live Taubaté Brazil 2018)
Length: 3:51
Composer: João Tostes
Credits: João Tostes (ukulele)
08. Girl From Ipanema (Live São Paulo Brazil 2017)
Length: 4:13
Composers: Tom Jobim e Vinícius de Moraes
Credits: João Tostes (ukulele) e Diogo Fernandes (baixo)
09. Delicato Ukulele (Live Seoul South Korea 2018)
Length: 3:50
Composer: João Tostes
Credits: João Tostes (ukulele)
10. Bodysurfing (Live São Paulo Brazil 2019)
Length: 5:13
Composer: Herb Ohta
Credits: João Tostes (ukulele), Jonas Loi (ukulele) e Vinícius Vivas (ukulele)
Volume 02 tracklist:
01. Sete Dias Te Esperando (Live Seoul South Korea 2018)
Length: 04:31
Composer: João Tostes
Credits: João Tostes (ukulele)
02. Brasileirinho (Live Seoul South Korea 2018)
Length: 4:57
Composer: Waldir Azevedo
Credits: João Tostes (ukulele) e Vinícius Vivas (ukulele)
03. Lua Branca / Gaúcho (O Corta-Jaca) (Live Barbacena Brazil 2017)
Length: 5:11
Composer: Chiquinha Gonzaga
Credits: João Tostes (ukulele), Diogo Fernandes (baixo) e Felipe Moreira (piano)
04. Flor Amorosa (Live São João del-Rei Brazil 2018)
Length: 2:47
Composer: Joaquim Callado
Credits: João Tostes (ukulele) e Diogo Fernandes (baixo)
05. Yesterday (Live Ouro Preto Brazil 2016)
Length: 1:55
Composers: John Lennon e Paul McCartney
Credits: João Tostes (ukulele) e Diogo Fernandes (baixo)
06. Delicato Ukulele (Live Ouro Preto Brazil 2018)
Length: 3:48
Composer: João Tostes
Credits: João Tostes (ukulele)
07. Maria Madalena (Live Taubaté Brazil 2018)
Length: 3:05
Composer: João Tostes
Credits: João Tostes (ukulele)
08. Alivium (Live Barbacena Brazil 2018)
Length: 4:25
Composer: João Tostes
Credits: João Tostes (ukulele), Diogo Fernandes (baixo) e Felipe Moreira (piano)
09. Ashes (Live São Paulo Brazil 2019)
Length: 3:28
Composers: João Tostes e Jonas Loi
Credits: João Tostes (ukulele) e Jonas Loi (ukulele)
10. Xote Sem Rumo (Live Vicenza Italy 2018)
Length: 4:11
Composer: Felipe Moreira
Credits: João Tostes (ukulele), Diogo Fernandes (baixo) e Felipe Moreira (piano)